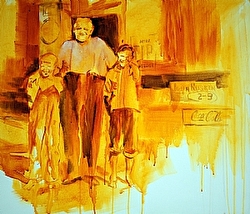 You ready, I ready
Amos Ranhorn, my great grandfather, was born in coastal North Carolina shortly after the Civil War ended. He was both a maker of violins and a gifted player. He was also one of many artists and craftsmen in our family tree.
As he approached the twilight of his life back in the 1930s, he moved in with my dad's dad and his family. My granddaddy had a country store at that time. The whole extended family lived upstairs and the store was on the ground level.
There were many immigrants living in that community. One, Mr. Yannego (not sure of correct spelling) was from Czechoslovakia. When he got to drinking, he would forget his English, which happened on one of his visits to the family store. In his frustration about not being able to express himself, he began to cuss at my grandmother who was trying to wait on him.
Hearing someone spewing foul language at his daughter, Granddaddy Ranhorn rushed downstairs and began to confront Mr. Yannego. That heated exchange ended with each one challenging the other to a duel. Mr. Yannego went home to get his shotgun and Granddaddy went back upstairs to get (in the words of my dad) "his pearl handled revolver what he carried when he played music in the burlesque houses of Norfolk and Baltimore." Granddaddy also fortified his nerves with several shots of bootleg liqueur.
Soon Mr. Yannego returned and the two wobbly gunfighters met for "high noon" on the road in front of the country store. Despite the protests and screams of the mostly female onlookers, they prepared to draw on each other. Then just before this, each one jumped into one of the deep drainage ditches that ran on opposite sides of the road. Now, instead of high noon, it was trench warfare.
Granddaddy began shout from his trench, "you ready?" Mr. Yannego would reply, "you ready, I ready." And Granddaddy would say, "Well I'm ready." No one made a move. Then Granddaddy would shout again, "you ready?" And the exchange would go on as before and then they'd repeat it all over again. Eventually sitting in a damp ditch in the hot sun, they both sobered up and each one crawled down and later out of his ditch and went home. So ended that famous duel.
Like many artists, Granddaddy Ranhorn was a colorful character. Children adored him and the adults; well for the most part they tolerated him. I made the painting "you ready I ready" from an old family photograph of Granddaddy Ranhorn standing in front of the Berry Country Store along with my father and my uncle. He was their boyhood hero. Like his grandfather, my dad went on to become a jazz musician. My uncle Pal became a maker of fine string instruments and his dulcimers in particular are considered by many to be among the finest in the USA.
I have been around artists and musicians most of my life. Some are quite morose and melancholy. There are others who are consumed only with the making or selling of their art. But there are very many, who like Granddaddy Ranhorn are filled with " le joie de vie". While serious about their art, they hold it lightly. Their self-esteem and enjoyment of life are not dependent solely on their artistic fortunes.
In the end, they are the ones that attract the most people to themselves and to their art. Now, I am not making a case for eccentricity. In fact I would suggest the opposite is true. But it is helpful to remember that you are more than your (art) career.
We have a saying here in Spain, "dedicate yourself to what you love and you'll never work a day in your life." I never personally met Granddaddy Ranhorn, but I think he would agree.
Over time, Granddaddy's foiled duel evolved into a family legend. Since then, whenever we prepare to leave the house, we often ask each other, "Are you ready?" There is only one answer in the affirmative:
"you ready, I ready."
Comment on or Share this Article →