Buddy and I grew up together. The youngest of my mother's siblings was only 3 years older than me. He was closer to a brother than an uncle and many of the adventures of my youth were either inspired by his "dares" or our mutual desire to push the limits.
Buddy dropped out of school in the eighth grade. He went on to enter the construction trades. When I returned from my military service, Buddy got me a job as an electrician's helper and like him, I too eventually became a master electrician.
Still, despite many common interests, we each chose different paths. Buddy was an Elvis, Conway Twitty and Country music fan. I liked Jimmy Hendrix, the Who and Crosby, Stills and Nash. Buddy eventually became a prototype Southern redneck. His interests were NASCAR, Bar-B-Q and the aforementioned Country music. Art to him was the 1927 "Bucket T", Model T Ford hot rod that he had lovingly customized.
Life took me in another direction. I quit the electrical business, went to university and took a position as the co-pastor of a church. After graduation I came to Spain and began to work as a pastor here. Painting had been my hobby since my teenage years and I found many opportunities to develop and improve my art in our new home in Europe. Eventually I was named Regional Director for Southern Europe for our church. My travels took me to France, Italy and Germany and I added to my English and Spanish, a passible level of French and Italian.
Buddy and I could not have evolved into 2 more different people. It is hard to imagine that as boys we often slept in the same bed and as teenagers drank from the same bottle.
I went through a phase when I painting nothing but abstract impressionist paintings. Some of these are on my website under the collection: "paisaje disonnante" (a dissonant landscape). Still, I wanted to honor my mother and painted for her a portrait of her father titled "Tyrell County Man." I made a few giclee reproductions of that work to gift to my family. I made one of these for Buddy and for this we planned to get together for the first time in years.
I have a studio in NC and was working on those abstract paintings at that time. Buddy and his wife came by and as you might expect, they were not too impressed by my abstract work. Then something very curious happened. As I began to explain to them the principles of abstraction, my use of composition and leaving room for the imagination and mystery, they understood what I was trying to do. More surprising was the fact that they wanted to purchase 2 of the paintings, which I learned they later proudly displayed in their home.
Buddy later contracted cancer and I went to visit him. We had never discussed serious themes in the past. But I soon learned that Buddy too had evolved. We talked about the meaning of life, philosophy, and history and of course spirituality.
Whether it was those abstract paintings or his fight with cancer, I guess I will never know. Something had definitely changed in Buddy though. His world had expanded and somehow with it our friendship. When he walked through the darkest valleys of his life, art opened a door for me to help him work through it. Buddy died in 2009. He was 61.
Art can open doors or shut them. Artists often come across as a kind of superior, elite group. On the other hand there are also people who approach art with closed minds and big mouths. But where there is willingness to dialogue and learn from each other, rich relationships can be developed and miracles often take place. "Love covers a multitude of sins."
Comment on or Share this Article →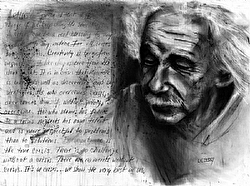 I live (most of the time) in Spain. The "crisis" has hit us hard. Spain has the highest unemployment in the EU, over 23% generally with over 43% of people 30 and younger never having ever had a job. There are a million households here in which no one in the family has a job or a source of income. A lot of good people are suffering. As elsewhere the government initially responded by throwing resources at the problem in the hope of stimulating the economy. It has not helped.
As perplexed as anyone, I began to wonder, what would happen if we tried to make art the same way. Perhaps we'd need 500 tubes of paint, a hundred brushes, a panel of experts to direct every stroke and 10 years later, we'd end up with some monstrosity no one would want.
Just how important are resources to success? What then are the minimum resources that you need to make art? The prehistoric cave painters of Altamira (northern Spain) created works that today thousands of years later, remain fresh and contemporary. Their tools were the burn ash from their fires (charcoal) and a few natural pigments.
That in mind, I proposed to impose strict limitations on myself. For 2 years I only worked with charcoal, that most basic and primitive of mediums. I began to experiment with it: throwing water on it, scrubbing it off, crushing it into dust and working with that, I used a variety of surfaces (canvas, panels, paper and cardboard) sometimes I mixed it with light washes of acrylic paint or medium, and I conducted many other experiments with more or less success. It was a lot of fun. I call that collection of paintings, "Beauty for Ashes".
What I learned was this; limitation is the doorway to creativity. When you do not have many resources you must become creative. Anyone who ever had the "too much month at the end of the money" experience knows just how creative you tend to get.
Someone once said, "anyone can make a porterhouse steak taste good, it takes creativity to do something with chitterlings."
I now believe that it is not your resources or lack of them that determines success. With burnt wood ash (what most people see as garbage) and a creative idea you can make art. What you have is just the starting point.
Comment on or Share this Article →
Ok, I give in. I am going to try to start a blog. We'll see how it goes and if anybody is interested. This is just one more thing that I never thought I would be doing. Me, a blogger? Who in the world would want to read that? Well, if nothing else, maybe it will help me clarify my thoughts. Just thinking out loud. (Wait, is writing a blog the same as going around talking to yourself?) Humm...
I wish I could say that I operate on the basis of a great master plan for my life. Truth is that for the most part I have found that life unfolds before you. Doors open, others close. No one has 20/20 foresight so you operate on the best information that you have at the time. But still you have to make the decision.
I never thought I would have moved from the near paradise of costal North Carolina, but a door opened and I walked through it. 35 years later I am living in Toledo, Spain; Castilla la Mancha; the land of Don Quijote (quite appropriate I might add.) I never visualized myself as a spiritual person, but an unplanned visit to a local church to watch a children's Christmas play changed my life.
I never thought I would become a professional fine artist. I have a great respect for creative people. That you might actually get paid to learn how to paint seemed to me so far beyond my grasp as to not waste time thinking about it. A door opened and then another, people began to purchase my art and now...
I never thought about opening a gallery. I went to Toledo looking for a place to have a studio. But people began to visit me there and I prepared a wall for them to see the paintings. That led to another and eventually a gallery evolved. I cannot say that I know much about operating a successful art gallery, but I am learning. Somehow we've made a go of it for nearly 10 years and while more than a dozen galleries around us have closed, we keep chugging along.
The list of things I never imagined that eventually became an integral part of my life is so long that I won't even try to mention them here. Then again maybe my problem is a lack of imagination.
All I can say is that, many of the finest and most satisfying moments and elements of my life were not highly planned (including my 2 children). They just happen and you love them. My best paintings seem to paint themselves. You know, you can over think a thing (like a painting). So here goes, I am starting the blog. I never thought I'd be computer competent, much less a blogger. Ain't technology grand?
Comment on or Share this Article →